---
We're making a new work called The Talent in collaboration with Deborah Pearson. The piece will premiere in 2022, so we're working on it right now. Here's what we know so far:
On stage is a small sound booth; inside it sits a woman. She is a voice-over artist. Off stage, in a space never seen but only heard, a series of directors ask her to conjure different voices for commercials, self-help audiobooks, meditation tapes, computer games, gallery audio-guides, robo-calls... anything and everything. The performer is gifted, professional, mercurial; it seems as if she can create almost any kind of voice. But we rarely hear her 'real' voice. Who is she, and what does she sound like, in real life? Is there a real life in this on-stage reality?
The Talent asks what it means to watch a performer simultaneously give everything of herself but also nothing. Is she the powerful protagonist in her own narrative, or is she a puppet ventriloquized by an amoral capitalism? How does her voice live on, outside her body? What kind of ghosts will haunt us in the future, and what it means to 'use your voice'.
To see The Talent's upcoming touring dates, See our Calendar
---
---


GALLERY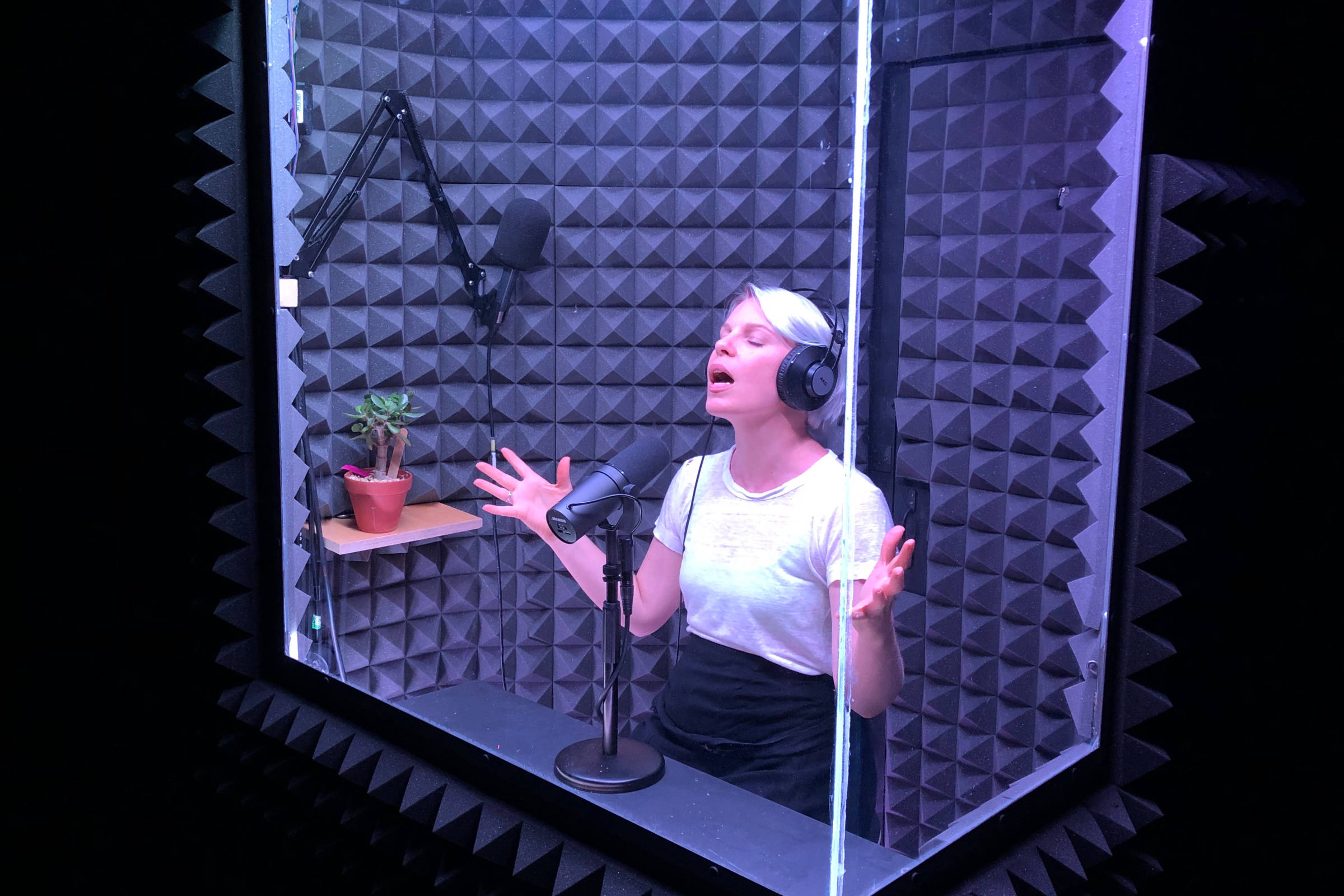 photos by Action Hero

Created and written by Gemma Paintin, James Stenhouse and Deborah Pearson
Performer: Gemma Paintin
Sound design: Yas Clarke
Lighting design: Alex Fernandes
Set Design: Camilla Clarke
Dramaturgy: Tania El Khoury
Producer for Action Hero: Sarah Warden

The Talent is co-commissioned by Teatro do Biarro Alto (PT), South Street Arts and University of Reading (UK) and Cambridge Junction (UK). Developed at PACT Zollverein. Supported by Bristol Old Vic Ferment. With thanks to University of Bristol Drama Department, QMUL School of English and Drama and The Yard. With funding from Arts Council England.