You Had To Be There: 15 Years of Action Hero
DVD/mp4 collection
Full set of 11 videos, created to celebrate 15 years of the company. Includes unseen footage and photos from every single Action Hero project created between 2005-2020, along with 'directors commentary' on the process and performance. Full captions for every video. Ideal for educational contexts.
To purchase the videos individually, get in touch.
1. A Western
2. Watch Me Fall
3. Frontman
4. Hoke's Bluff
5. Slap Talk
6. Extraordinary Rendition
7. Natural Selection
8. From Ashes
9. Wrecking Ball
10. Oh Europa
11. Bits & Pieces: other works
£300 + £5 p&p
BUY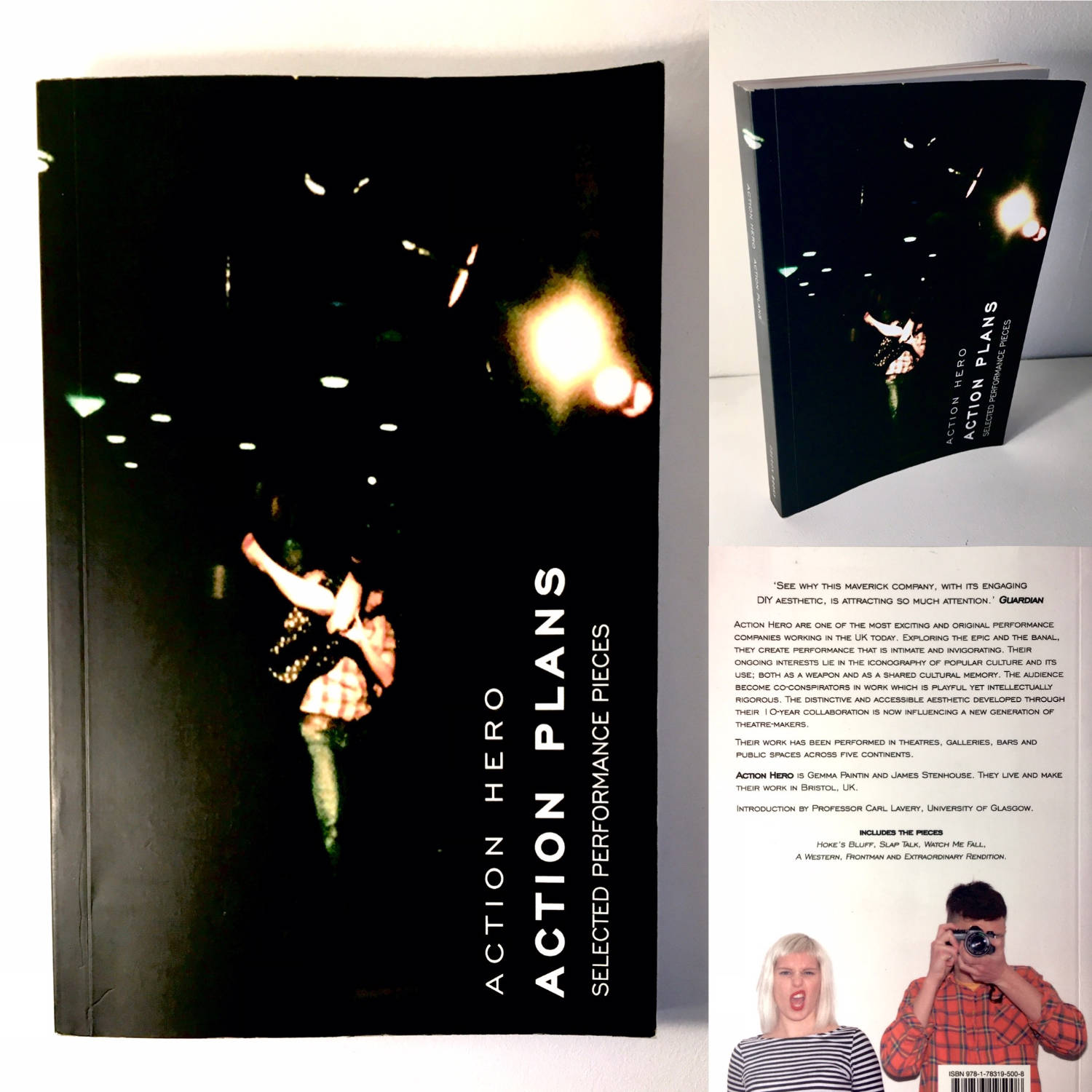 Action Plans: Selected Performance Pieces
Book
Six of our performance works (A Western, Watch Me Fall, Frontman, Hoke's Bluff, Slap Talk & Extraordinary Rendition) with an introduction from Professor Carl Lavery. Published by Oberon.
"An heroic extension of everything Paintin & Stenhouse have built so far"
Exeunt Magazine
£11.99 + £1.50 p&p
BUY
Wrecking Ball Playscript
Book
Text of Action Hero's stage piece, Wrecking Ball, with introduction from Action Hero's co-artistic directors, Gemma Paintin & James Stenhouse. Published by Oberon.
£4.99 + £1.50 p&p
BUY
Hoke's Bluff Wildcats T-Shirt
A special team t-shirt for fans of the Hoke's Bluff Wildcats. 'Whatever It Takes' written on the back. Size S only.
£5 + £1.50 p&p
BUY
Hoke's Bluff Playbook
Book

A beautiful, specially designed 'playbook' to accompany Hoke's Bluff. Includes original text by Action Hero and an introduction by Hoke's Bluff's dramaturg, Deborah Pearson.
£3 + £1 p&p
BUY
Hoke's Bluff Wildcats Memorial A3 Poster

A memorial poster commemorating Hoke's Bluff Wildcats vs Tuscaloosa Titans. A3 size. For serious fans only!
£3 + £1 p&p
BUY
Hoke's Bluff Wildcats Pin Badge

Commemorative pin badge featuring the face of Hoke's Bluff Wildcats mascot, HB. Available in yellow or white.
£1 + £1 p&p
BUY